The Essential Snakes Bangle Silver 925° Bracelet
Slither in Elegance

A statement jewellery collection inspired by one of the most bold & enchanting symbols in history: the snake.

Throughout history, the symbol of the snake has been associated with many meanings: knowledge, desire, rebirth, good luck & everlasting love are only just a few of the mythological meanings that the image of this creature carries within.
5FIVE is inspired by this timeless & fascinating motif and presents a modern & minimal re-interpretation in this statement Collection.
Product Code: JWBSM21S004
Bracelet
Silver 925°
Inner Diameter: 5,8cm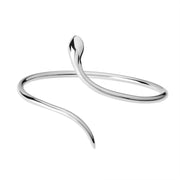 The Essential Snakes Bangle Silver 925° Bracelet