The Essential '21 "Spathi" 18K Gold Plated Silver 925° Necklace
Inspired by the history of the Greek revolution, this glorious curved "spathi" (sword) is designed to pay tribute to our ancestors' fight for freedom.
This necklace is part of a capsule collection on the occasion of the 200th anniversary of the Greek Revolution.
Εμπνευσμένο από την ιστορία της ελληνικής επανάστασης, το ένδοξο κυρτό σπαθί αποτιεί φόρο τιμής στον αγώνα των προγόνων μας για την ελευθερία.
Αυτό το κολιέ ανήκει στην capsule συλλογή για τον εορτασμό των 200 χρόνων από την Ελληνική Επανάσταση.
Product Code: JWNSM21Y008
18K Yellow Gold Plated Silver 925°
Chain length : 60cm + 5cm with 5FIVE tag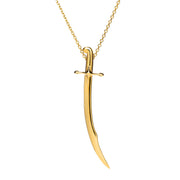 The Essential '21 "Spathi" 18K Gold Plated Silver 925° Necklace